Wednesday, August 24th, 2011 | By Robert-Jan Broer
One of the most popular activities amongst watch enthusiasts besides collecting watches is spotting watches on the wrists of actors, musicians, sportsmen and women and all sorts of other b-scene artists. As long as they are known to the public and wear watches we – as watch enthusiasts – can identify ourselves with.
I've been blogging for a long time now on Fratellowatches, and have covered several famous – and less famous – actors, singers, sportsmen and soccer wives and the watch they were wearing. On a daily basis, I receive a lot of visitors that have been querying, "which watch is actor X wearing?" and at the time of the Wimbledon finale, I can expect a number of people that have been looking for Nadal or Federer and their watches.
Years ago, in 1998, a watch collector named Ed Heliosz put together a website listing movies and the watches that could be spotted. It still exists and I'll bet it receives a huge number of visitors each month. Since then, a lot of similar websites and lists appeared on the Internet. Coincidentally, the German Rolex Forum reached 6,000 posts today with pictures of famous Rolex wearers.
Although we do not want to admit it in public, we are sensitive for what other people are wearing on their wrists. Not that we care about the choice of a celebrity, but it has become our natural habit of looking at someone's wrist because we love watches and want to see as many of them as possible.  There is even a hash-tag on twitter called #womw, translating as 'what's on my wrist'.
If a celebrity wears one in public, we seem to get even more excited, even when it's sponsored (George Clooney wearing a Speedmaster Professional by Omega). The real treats are the pictures and videos of people wearing a watch that they chose by themselves, like John Mayer wearing a DLCed Rolex, Jerry Seinfeld and his Breitlings, Steve McQueen and his Rolex Submariner, Charlie Sheen wearing and losing a Patek Philippe and so on.
A harmless sub culture of collecting watches in my opinion and one can easily join!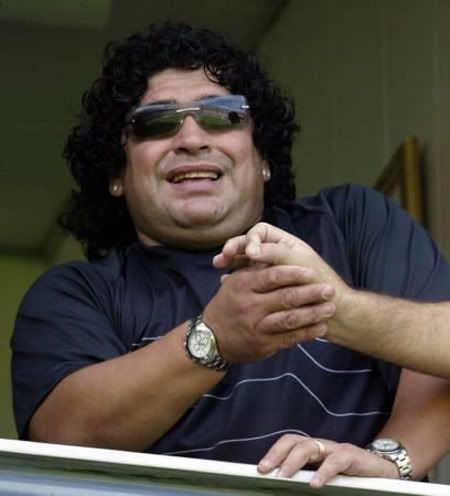 Diego Maradona wearing two Rolex Daytonas.
Interesting places to see what celebrities are wearing:
http://members.optushome.com.au/heliosz/movielist.html
http://watchesinmovies.info/movies/
http://www.r-l-x.de/forum/showthread.php?17-Sammelthread-Rolex-und-Legenden-Stars-Sternchen (German)
http://www.famouspeoplewatches.com/
This entry was posted on Wednesday, August 24th, 2011 at 6:18 pm and is filed under
Luxury watches
. You can follow any responses to this entry through the
RSS 2.0
feed. You can
leave a response
, or
trackback
from your own site.